The Core Region is a large area on the west coast of pre-war America.
It is ruled by the NCR who have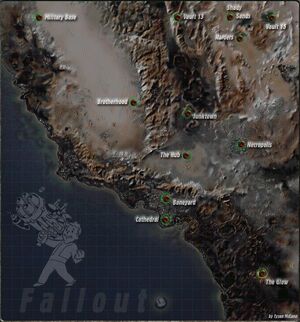 driven off many of the threats that plauge the wasteland. After the defeat of The Master's Army, The Enclave, and The Brotherhood of Steel the NCR was able to establish peace in the region. However just because this is the safest know area in the wasteland does not mean that its not without threats. Raiders still hold out in remote areas and there are many smaller factions that won't think twice about putting a bullet in your head.
Known Towns
Edit
Shady Sands (NCR capital)
LA Boneyard
Dayglow
Broken Hills
Gecko
Junktown
Arroyo
Klamath
Modoc
Redding
San Francisco
Ad blocker interference detected!
Wikia is a free-to-use site that makes money from advertising. We have a modified experience for viewers using ad blockers

Wikia is not accessible if you've made further modifications. Remove the custom ad blocker rule(s) and the page will load as expected.