The Wasteland Survival Guide is a new wiki, and thus requires much work and unity in order for us to thrive and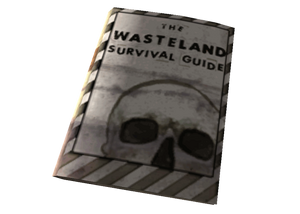 expand. So, for this to be acheived we must have a constant implementation of projects going at a steady rate.
Project guidelines are in the making (ironically that is a project for the Bureaucrats and I apologize). However, if you would like to make a project, please consult the guidelines at the Vault here, and feel free to consult an Admin or Bureaucrat (list) about the possibilities for your project or its development. Thank you. - Sombar1 (talk)
Pages in category "Projects"
Ad blocker interference detected!
Wikia is a free-to-use site that makes money from advertising. We have a modified experience for viewers using ad blockers

Wikia is not accessible if you've made further modifications. Remove the custom ad blocker rule(s) and the page will load as expected.