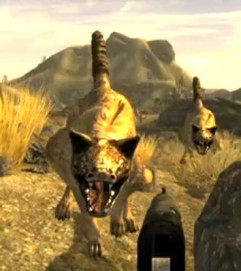 This project is dedicated to making a comprehensive guide to the creatures that appear in all Fallout games. As well as editing existing articles so that they fit the format of this site.
Guidelines
Edit
This is the scientific and canon version of the creature pages, as such refrain from posting opinionated articles within these pages.
Try to include infomation that would not be found in The Vault such as diet, behavior, ect.
One should try to observe these creatures and learn how they act, what they generally eat, and where they go. But be careful; don't have their diet consist of you.
Ramallah - Project Manager
Sombar1 15:17, May 29, 2011 (UTC) - Project Contributer
Ad blocker interference detected!
Wikia is a free-to-use site that makes money from advertising. We have a modified experience for viewers using ad blockers

Wikia is not accessible if you've made further modifications. Remove the custom ad blocker rule(s) and the page will load as expected.