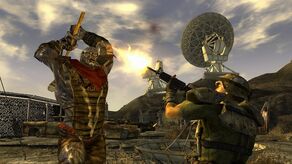 This project is dedicated to combat infomation and tactics that are usefull when dealing with hostile creatures of the waste.
Guidelines
Edit
All information should be helpful and informitive and help the player.
These pages should be written as if they are real situations involving wild animals.
Tactical information should not depend on skill. Everyone who used this info should be able to gain from it.
Ad blocker interference detected!
Wikia is a free-to-use site that makes money from advertising. We have a modified experience for viewers using ad blockers

Wikia is not accessible if you've made further modifications. Remove the custom ad blocker rule(s) and the page will load as expected.